NYT: There's Only One Side to Ukraine War, Everything Else is Russian Propaganda
Mainstream media is nothing but another arm of U.S. government propaganda
The New York Times ran a story on 9 August titled, "How Russian Propaganda Is Reaching Beyond English Speakers," that proves our forecast that the Western media will work overtime to deliver only one side of the Ukraine conflict.
Putin Bad, Zelensky a Hero.
Anyone who comes up short of that is automatically written off as a Putin Sympathizer, which is the new COVID-19 vaccine "denier," and COVID deniers are not looking all that bad right about now.
PREPARE FOR GREATEST MARKET CRASH EVER
Some highlights from The Times' U.S. propaganda report:
-When Russia's war in Ukraine began, Facebook, Twitter and other social media giants moved to block or limit the reach of the accounts of the Kremlin's propaganda machine in the West. The effort, though, has been limited by geography and language, creating a patchwork of restrictions rather than a blanket ban.
QUESTION: Who determines what qualifies as a "propaganda machine." Is CNN and MSNBC anything but "propaganda machines" for Democrats, and Fox News for Republicans? The corporate media is nothing but propagandists for their corporate overlords.
WATCH:
OccupyPeace.com
's 'Peace and Freedom Rally' took place on Saturday in Kingston and was completely ignored by mainstream Presstitutes. Speakers:
@Judgenap
, Phil Giraldi, Scott Ritter, Gary Null, and Gerald Celente
#ukraine
#UkraineRussiaWar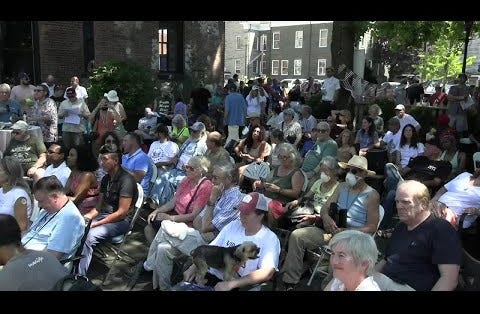 youtu.be
Replay of the Peace and Freedom Rally from July 23, 2022
Streamed and recorded live from Kingston, New York on the four corners of freedom. Speakers include Gerald Celente, Judge Andrew Napolitano, Scott Ritter, Ga...
Was Amnesty International "propagandists" when it released a report accusing Ukraine of war crimes?
Just look at this headline from Mediaite: Lachlan Murdoch Views Trump as Bad for America, But Keeps Fox News Behind Him Because It's Good for Business: Report
It's all about the bottom line. Period.
The Times' article blames Russian propaganda for trying to "justify President Vladimir V. Putin's unprovoked invasion, demonizing Ukraine and obfuscating responsibility for Russian atrocities that have killed thousands of civilians.
The result has been a geographical and cultural asymmetry in the information war over Ukraine that has helped undercut American- and European-led efforts to put broad international pressure on Mr. Putin to call off his war.
"There is not an airtight, worldwide stifling of Russia's notorious ability to fight not only on the battlefield, the real battlefield, but also to fight with information and distortions of information," said Paul M. Barrett, deputy director of the Stern Center for Business and Human Rights at New York University, who recently wrote a study about the spread of harmful Russian propaganda on YouTube."
TRENDPOST: The Ukraine invasion was NOT UNPROVOKED, and if you don't know that by now, you have been too busy watching your selected propaganda platform in the U.S.
As we have reported, completely absent in the American media reports of the current U.S. stand with Ukraine is the role Washington and Victoria Nuland played in the overthrow of its government in 2014. 
A report from 2014 in the Trends Journal laid out the political maneuvers at the time in Ukraine: "Washington's coup in Ukraine brought not only a threat to the Russian population in Ukraine but also a direct strategic threat to Russia itself." 
Nuland, who speaks Russian and French, boasted that Washington had invested $5 billion in non-governmental organizations (NGOs) in Ukraine. Allegedly, the purpose of NGOs is to "teach democracy."
Ukraine, however, already had a democracy. In reality, the NGO organizations are U.S. fifth columns that can be used to organize protests and to provide support for Washington's candidates for the Ukraine government.
The Trends Journal has been opposed to Russia's invasion from the start, but, unlike the propaganda corporate media in the U.S. is selling, it was not "unprovoked."
Russia saw Ukraine as a growing threat due to its military integration with NATO and U.S. Secretary of State Antony Blinken failed to acknowledge Russia's legitimate security concerns.
The Biden administration is filled with anti-Russian remnants from the Obama administration with failed track records, like Jake Sullivan and Victoria Nuland. President Joe Biden couldn't even hide his contempt for Russian President Vladimir Putin during the campaign.
We've long said that NATO refused to allow Ukraine to become a full member for years because it wants no part of Russia. Ukraine cannot defeat Russia, nor can NATO. Zelensky would have been forced to negotiate weeks ago, but it is only because the West hates Russia to such an extent, that it is willing to provide Ukraine, one of the most corrupt countries on earth, with record amounts of weaponry and money to damage Moscow.